Remittances were hot at Money2020 in Amsterdam this September. In April, 2021, Nium and Travelex boosted their digital remittance offering for Asia Pacific. Remitly was valued at $8 billion after a strong NASDAQ market debut. Market leader Western Union is well on track to reach $1 billion in digital money transfer revenues in 2021, after third-quarter revenue of $266 million. Today, Western Union claims to hold the largest cross-border, digital, peer-to-peer payments network in terms of scale, revenue and channels.* Meet Mr. Massimiliano Alvisini, Senior Vice President & General Manager, Europe, CIS and Africa. "Customers are at the centre of what we do." 
By Jan Jaap Omvlee 
Looking back, how did Western Union react to the COVID pandemic, making the shift "from retail to digital/ecommerce"? 
"Let me first give you a bit of background. As you may know, Western Union is a global leader in cross-border, cross-currency money movement and payments, and we continue to make significant headway in expanding our digital platform to provide enhanced services for global customers by enabling national postal networks around the world to offer international digital money transfer services. We've been going through this shift from retail to digital for many years and obviously this was accelerated by the COVID-pandemic. We have all seen the incredible growth of ecommerce, with even our mothers and fathers shopping online. The big advantage was that Western Union was ready to move into that direction and build a very large digital business."  
"To give you some numbers, we expect our digital money transfer revenues to reach $1 billion, slightly more than 20% of our total revenue. So, we were already taking the journey and what really differentiates us is that we can offer customers an omni-channel experience, customers can engage with us through digital means, through the web or app, send funds through a mobile wallet, through a bank account or collect cash. COVID-19 has accelerated this omnichannel trend and we've been able to become even more digital along the way, a strategy that started several years ago when we announced that we would open our platform to third parties. During COVID-19 we've proven that our platform is strong, resilient and has helped customers adapt to this crisis with solutions that helped them to support their needs during such critical economic turmoil where many families needed to support their family members and friends abroad."    
Being digital means providing a fast, safe and seamless customer experience. How did WU succeed in providing this during the pandemic?  
"Providing such an omnichannel experience is definitely our aim. The pandemic was a catalyst for acceleration in this process. During the pandemic we were able to innovate with inclusion because we are first and foremost a purpose-driven company serving communities. We have the largest digital remittance platform, something that people are not always aware of. The challenges as posed on us through the pandemic put us in a favorable position, stronger than ever. On top of that we have the fast network of 600,000 retail locations globally and on top of that we had all the digital capabilities that we have, all mobile wallets."  
"Let me give you an example. In some areas of this planet such as in South America or in Africa, digital wallets are very much advanced because these areas lack traditional infrastructure like bank branches. On the other hand, when you receive funds in Africa, this means you can pay a taxi, you can cash out if you need, you can pay in a shop or through e-commerce. That is the big advantage when you have this omnichannel approach that allows us to empower millions of customers through mobile banking and wallets. In this respect, reliability, trust and security are critical and our customers appreciate those characteristics during these times of uncertainty."    
In the WU's modernization process, "going after the direct relationship with customers and at the same time being able to offer our platform to others who already have a direct relationship with our customer" was key (Tech Crunch article, 28 June 2021). How did WU manage to do this? 
"In 2018 we decided to open up our cross-border platform to third parties which was a major shift in our operations and philosophy. We wanted to become a more diversified payments company and our organisation follows a customer-centric approach. This means that we want to build a consumer ecosystem and expand our loyal customer base. We can do that by offering our platform to third parties, to reach new customer use cases."  
"Let me give you some examples.  We have partnerships with the world's largest companies: Google, Walmart, Alipay, Sberbank in Russia, and stc Bank (formerly stc Pay), in Saudi Arabia, where we hold a 15% stake. These examples perfectly show how we are working towards the needs of customers and how we are able to reach them directly with our own brand and through our own platform. At the same time, through these third-party alliances, we have the opportunity to meet customer needs, diversify our offerings and form strategic partnerships. To give you more details: in the US we benefit from our partnership with Google, but also in India and Singapore because we have linked our platform with Google Pay. In these countries, users may fund their transactions using Google Pay (with the debit or credit card linked to their Google Pay account), bank account, or card. On top of that we also have customers in 21 countries that can access our platform and can now pay for Amazon purchases at Western Union locations. We've also expanded our e-commerce capabilities and the latest country to go live with Western Union/Google Pay is Italy!" 
Why Italy? 
"Italy doesn't have a large history of card payments so the fact that people can access e-commerce through Western Union is good. Here, people are less confident to go online and make a purchase.  Our partnership there with Google Pay is going quite well." 
"But we have much more. In France, the integration of Western Union's global cross-border, cross-currency digital money movement platform within La Banque Postale's mobile app and website enables more than seven million online registered La Banque Postale customers to access Western Union's international payment services and experience. A similar situation holds for UK Post, Sberbank and others. In June 2021, Western Union collaborated with Linxo, a leading budget management and bank account aggregation application in France, to enable users to make local and cross-border payments through Western Union's platform. So, financial institutions are an area that we are embarking on, to be served directly or through white label solutions."  
In recent years, a number of fintech startups have emerged to challenge Western Union in the massive space — from Wise (formerly Transwise) to Remitly to WorldRemit. With lean and mean fintechs and remittance challenger entering the arena, how is Western Union fighting competition and how do you keep focus on innovation and relentless customer focus?    
"I like the phrase 'customer focus'. Everything we do at Western Union is related to customer focus. Customers are at the centre of what we do. Our goal is to be the leader in cross-border, cross-country payments for businesses and customers across the globe. How do we do that? As I said before, we aim to serve every single customer with multiple needs in different segments through different channels. Ideally, this happens through an omnichannel approach that relies on the fact that customers can access cross-border financial services from a desktop or transfer or collect cash, whatever the location. This is the winning solution to meet customer needs and really drives customer satisfaction. We see digitalization and e-commerce progressing, and Western union is committed to being on top of this, what we call, 'sell-side' in individual countries. At the same time, you need to serve people globally and we also need to be able to send funds to Africa, where there is huge growth in the availability of mobile and digital wallets due to the lack of traditional infrastructure. But there are also customers that need to receive money in a small village in Costa Rica and covering the so-called last mile can be complicated. All of these cases are embedded in the DNA of Western Union, so we're able to more than adequately manage this." 
"On top of this you always need to remember that people really rely on us, someone they can trust and rely on for their financial services. And when talking about competition, we're in a strong position to win, because it's about meeting customer needs. I do not make any differences among cash or digital, it's the customer who decides what to use. As a company we want to give our customers the flexibility and trust to work with us." 
"To give you some data about what has happened in the last few years at Western Union. We're now able to deliver funds to account in 125 countries, and in over 100 of these in real time.  over 60% of our global account payout transaction volume is delivered in real-time . On top of that we continue to serve 200 countries and territories with 135 currencies with our retainer business, so the bigger scale makes a difference here through our digital network that none of our competitors can match."       
---
Digital acceleration at Western Union 
Western Union invested substantially to build the leading omni-channel platform for cross-border, cross-currency money transfers and payments. Digital channels in 2020 made up 29% of transactions and 20% of revenue for the company's consumer-to-consumer (C2C) business, up from 16% and 14%, respectively, in 2019. But Western Union seems up for the challenge and has been investing heavily in its digital operations in an attempt to beat fintechs at their own game. Despite COVID-19, remittance flows remained resilient in 2020, registering a smaller decline than previously projected, Western Union also opened its platform to third-party financial institutions in a move it says is a "step toward creating an end-to-end payments processing hub."  
---
"We do not see ourselves as just intermediaries. As a purpose-driven global company, our mission is to enable individuals and business worldwide to make their payments globally, and this means not only serving the digitally enabled but also taking proactive steps to include offline communities innovatively. This shared purpose holds true in challenging times."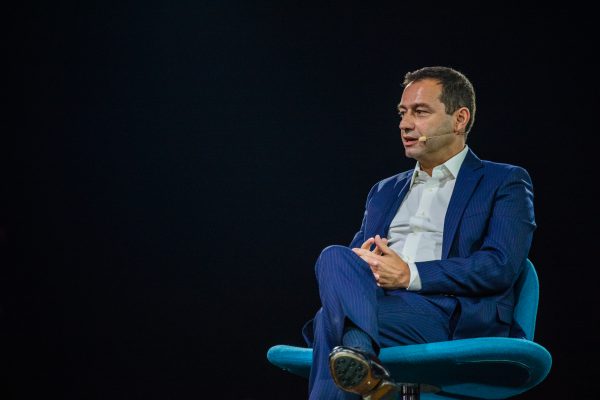 Massimilano Alvisini on stage at Money2020
CV Massimilano Alvisini 
Massimiliano Alvisini leads Western Union's business (retail and digital) in Europe, CIS and Africa, for a total of 57 markets and an agent network of more than 134,000 locations in Europe and CIS and more than 51,000 locations in Africa. Massimiliano also serves as the CEO of Western Union Payment Services Ireland Limited (WUPSIL). 
Massimiliano joined Western Union in August 2011 as Regional Country Director for UK and Ireland. In July 2012, his portfolio was expanded to include Sweden, Norway, Denmark, Finland and Iceland. In February 2014, he became Regional Vice President, Northern Europe, and in January 2016 his role expanded to cover also Spain, Andorra and Portugal. He assumed his regional Europe, CIS and Africa in 2017, originally for Western Union's retail business; in 2021 his duties expanded to cover the company's digital operation in the region. 
Massimiliano has more than 20 years of experience in the financial services sector. Prior to joining Western Union, he was a director at Angelo Costa for 11 years. During his time there he held a number of senior positions including Treasury and Operations Director for the entire Angelo Costa business. He was responsible for the day-to-day running of Angelo Costa's business in the UK, Spain, Belgium and the Netherlands, as well as its operations in Ireland. 
He began his financial services career back in 1996 at Interchange, a leader in the foreign exchange business, where he gained extensive experience in operations, project management and business development. 
Massimiliano holds an MBA from University College Dublin in Ireland and a Political Science Degree from La Sapienza University in Rome. He is an Italian citizen, fluent in English, Spanish and Italian. 
About Western Union  The Western Union Company (NYSE: WU) is a global leader in cross-border, cross-currency money movement and payments. Western Union's platform provides seamless cross-border flows and its leading global financial network bridges more than 200 countries and territories and over 130 currencies. We connect businesses, financial institutions, governments, and consumers through one of the world's widest reaching networks, accessing billions of bank accounts, millions of digital wallets and cards, and approximately 600,000 retail locations. Western Union connects the world to bring boundless possibilities within reach. For more information, visit www.westernunion.com.  
* Source: TechCrunch: How Western Union is fighting back against fintech startups, June 28, 2021